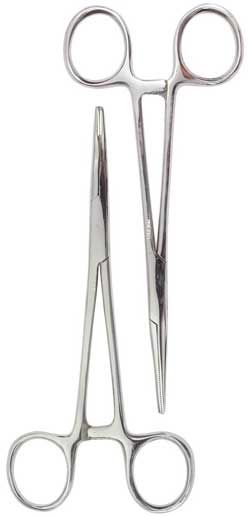 Hemostats can be very helpful for finishing Paracord Survival Bracelets.  They are probably even more helpful than Paracord Needles.
Click here to see our choice of hemostats.  These are inexpensive, and one pair has a "straight" nose and the other pair has a "curved" nose, which we personally prefer.
When finishing a bracelet, you can slip the nose of the hemostats under some of the completed braids of the bracelet.
They grab the loose end of the paracord, and pull it under the completed braids, and trim off the excess.
This will create soft, smooth, finished ends of paracord, rather than hard and "scratchy" burned ends of paracord either disfiguring your bracelet, or scraping against your wrist.